that's German for 'Energy Turning'... which is well under way with the utility death-spiral already a reality in Germany, but we have our own 'energy turning in the USofA'… so here's annual op-ed on energy:
Exec Sum: It's time to take a hiatus and chill in our warming planet: it's all too damn confussing,  as our rubber band has exceeded its stretching limits:  Oil prices will continue to hover between $20-40, coal IS done – fini-  despite trumpian efforts,  wind and solar will continue to enlighten, and the USA will continue to gets its energy ass kicked by Europe and China… we are a laughing stock when it comes to energy policy: cheap oil at any price.  We hardly notice as the world moves on (to renewables).
Between falling oil prices and OPEC's dysfunction (latest production cut agreement won't hold long),  trumping around with uncertainty, Paris accords fading, Venezuela's civ
il unrest, protesters turning into connected protectors,  fracking getting a pass,  more cars at less MPGs, Tesla's stock shrinking as marriage to its incestuous cousin is approved, and Gaia keeps turning up the
heat on us frogs, what can I say that's positive?   Hey – we're waking up!  slowly but surely we are reaching a tipping point and I'm optimistic that our Big Brains will soon figure out that nature doesn't really have an opinion and it's better off without us – any questions?  There's just one little issue with my optimism: Are we really that smart?  It only took us 5,000 years to put wheels
on our luggage! And that was on top of 55,000 years without wheels!  something about chisels?… but I digress…
We have an energy solution right in front of us, but can't seem to get past bi-partisan morass. Even NRG can't figure it out… I get tired reading about the troubles in the renewable business… would the pop media wake up and get some balls – please?  Fossil fuels are not only messy, they're guey, they stink, their supply chain is extremely inefficient (<5%), when they leak they kill, and we're addicted like a heroin addict.  If you've ever driven up to an active fracking development area, you'll be smelling and seeing methane clouds miles away; or if you've been with a wild-catting/leatherneck crew you'll soon learn the messy
business of dozens of 100ft long steel pipes swinging overhead waiting to be launched into the ground to send a diamond drill bit down,down,down (sound like I've been there? – yep in the 80's… they were fracking then too in Oklahoma and I had a front row seat… but the fracking is WAY bigger & messier now).
(Newsflash on a recent Oil discovery: a HUGE – yes a trumpian huge – oil reserve in the Texas Bakken field was just unearthed that'll keep oil & gas prices low for years more and renewables in the USA fighting for survival.)
renewables are messy...and renewables continue getting a dose of political uncertainty (again, sigh…) but what's so messy about hooking up two wires to a solar panel, a couple water pipes to a hot water collector, or erecting a steel tower (once) for a wind blade? Compared to ANYTHING in the fossil fuel industry… absolutely nothing! (sing it Edwin Starr…. music tune: https://www.youtube.com/watch?v=dpWmlRNfLck
Here's an easy solution:  teach a kid how to heat water with a black soda bottle (just put some dark liquid in there and stick it out in the sun), or point out the solar PV panels on rooftops, and maybe even a wi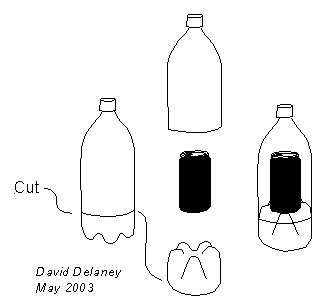 nd turbine when you're driving around… but hey! in order to be a teacher, y'all gotta be a good student… so study up and then teach the GOOD stuff to a young-un.
Note: if ya wanna be really cool, do this on the right… super heat a soda can!
——————————————————————
P.S. That's what the LeLc is all about… FUN and PLAY… and the GREAT TURNING  (WTR)